What is the latest in Motorization? 
Motorized blinds have come a long way in recent years. Now with rechargeable batteries, power wands, soft touch, remotes, and more, motorized blinds have put the focus on eliminating cords from all window treatments. This has created some fantastic opportunities for consumers looking for high-tech options in window fashions. We would like to talk about a few of those options here.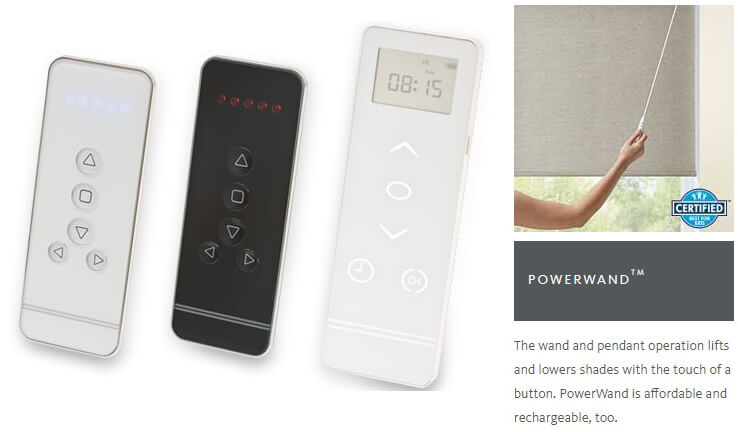 We are pleased to announce the expansion of our motorization programs to include Rechargeable Simplicity and PowerWandTM. Both are affordable and both are rechargeable. And, both offer convenience with the assurance of added safety in homes with small children and pets. Simplicity Rechargeable Motorized Shades with remote control use radio frequency transmission to operate the shade. Radio frequency motorization is excellent for any space with large windows, multiple windows, or for the simple convenience and child-safe method of operating shades. The rechargeable batteries may be charged two ways: (1) with a plug-in charger, or (2) with a solar panel.
The wand and pendant operation of PowerWand lifts and lowers shades with the touch of a button. This is available in multiple product lines, and this "Certified Best for Kids" option is great for the budget-savvy consumer. A plug-in charger recharges the batteries, and saves money, too!
Motorized Shutters in a value line are an exciting innovation, and offer privacy and convenience with the touch of a button. Ask us about your options.
With so many motorized shade and shutter options available these days, one of our design consultants can assist you in making the right choice, the first time! Call us today to schedule your free in-home consultation!